EMPOWER

POSSIBLE
Southern Oregon Trade Careers EXPO returns
September 26, 2023 to #empowerthepossible
The SOTCExpo promotes living-wage, trades-related career opportunities in
Coos, Curry, Douglas, Jackson, Josephine, Klamath, and Lane counties!
Held at Seven Feathers Convention Center and adjacent outside lots, we invite you to
attend and explore careers in the
Industrial, Commercial, Construction, Manufacturing, Professional, Agriculture, and Transportation industries.
8:00 am to 1:00 pm - Junior and Senior High School Students
from the 7 counties experience different trades careers hands-on and talk to the industry professionals about how to get started.
1:15PM - 3:30PM - Adult Job Seekers

from

anywhere in the state of Oregon are encouraged to attend, including

Veterans, Active-Duty Military, Spouses, and private and public agency referrals.
Employers accept resumes at the EXPO!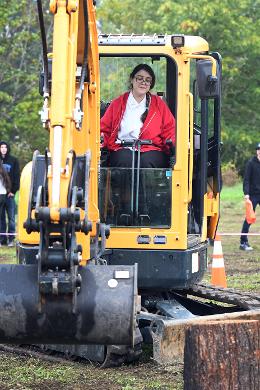 SOTCE IS NOT A 'CAREER FAIR'
IT'S AN EXPO
Living wage careers come to life!
High School attendees participate in a vast array of HANDS-ON activities with 130+ companies.
Adults Job Seekers attend to meet the companies and explore trades-related career opportunities.
Coos, Curry, Douglas, Jackson, Josephine, Klamath, and Lane counties are welcome!
We Look Forward To Seeing You On September 26, 2023!
WHY SOTCE?
More than 3 million skilled trade jobs will remain open by 2028.
Statewide, the trades

command HIGH WAGES.
More than 80% PAY ABOVE the median wage for the state.
And, several pay more than DOUBLE THE MEDIAN!
In Oregon, a workers average age is 50 years, and they are retiring.
Trades-careers are HIGH-TECH and HANDS-ON with GREAT WAGES.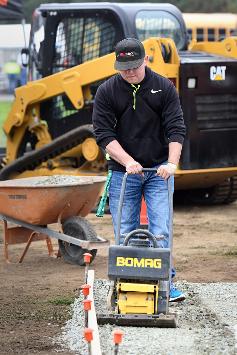 The Mission of the Southern Oregon Trade Careers EXPO is to promote living-wage careers and connect the current and future workforce to employers.
The SOTCExpo provides an opportunity for high school students and adult job seekers to explore and engage with employers andcareer opportunities in the

Industrial, Commercial, Construction, Agriculture, Manufacturing, Professional, and Transportation industries.
From 8:00 am to 1:00 pm high school students in 11th and 12th grades experience real trades careers as they participate in HANDS-ON activities.
From 1:15 - 3:30 pm adult job seekers connect with employers that are ready to hire. We encourage any job seeker that resides in Oregon to attend and bring their resume!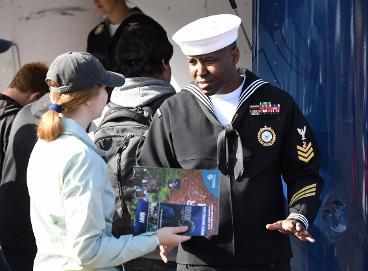 AVIATION RAIL TRANSPORTATION HIGHWAY SHIPPING TRUCKING PAVING TRUCK DRIVING ROADWAYS MECHANICS AUTOBODY AUTOMOTIVE DIESEL ENGINE REPAIR OIL MINING DRILLING ENERGY SOLAR ELECTRICAL UTILITIES BOILERMAKING WELDING PIPEFITTING STEAMFITTING IRON WORKING CABLE FIBER OPTICS INSTALLATION SKILLED LABOR FABRICATION LOCKSMITHING LANDSCAPING CONSTRUCTION HVAC INSULATION CARPENTRY DRYWALL FRAMING MASONRY CEMENT TILESETTING PLUMBING ROOFING FLOORING PAINTING DRAFTING ENGINEERING ARCHITECTURE MANUFACTURING MACHINING MILLWRIGHT INSPECTION HEAVY EQUIPMENT OPERATION ARCHAEOLOGY SURVEYING GEOLOGY EXCAVATION METALS FABRICIATION STEEL WORKING FARMING RANCHING OCCUPATIONAL SAFETY AGRICULTURE LANDSCAPING FORESTRY FISH & GAME WILDLAND FIRE MARITIME CRAFTERS PROFESSIONAL SERVICES PUBLIC SAFETY EMERGENCY SERVICES FIRE POLICE AMBULENCE EMT PILOT GUARDSMAN MILITARY - AND MORE!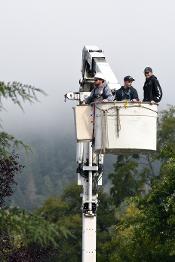 High School Juniors & Seniors
from
Coos, Curry, Douglas, Jackson,
Josephine,
Klamath
and Lane counties
8:00 - 1:00 pm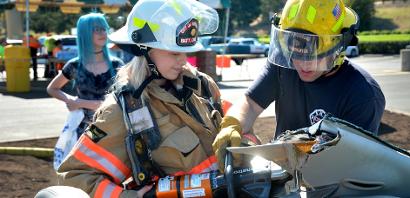 Any Adult Job Seekers and
Currently Serving Military,
Veterans,
Spouses,
and Agency Referrals
REGISTRATION 1:15 pm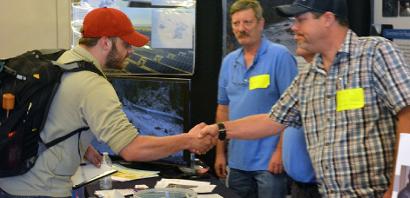 Exhibitor and Attendee TESTIMONIALS
"This is a great opportunity for students interested in pursuing a trade with little to no college after high school. A couple of years ago, I took 25 MHS and Harding Kids to this Expo. They said they really had a good time and learned a lot. They didn't realize there were so many career jobs that required little to no college. If you get a chance to attend, please do so. It is worth it!" - Stacy Gulseth, Coos Bay
"I had no idea what sparked my interest, but being here made me realize that there are a lot more options than what it seems out there." - Mary Burnett, 12th grade
"Thank you for having us, we're grateful for the opportunity to share all of the careers that we have at Kelly's Automotive Service in Grants Pass and Medford. It was really nice to see so many youth interested in trades careers, engage with us, and ask questions. Thanks again, we'll see you in 2023!" - Kelly's Automotive Service
"We had lots of great conversations with students at the Southern Oregon Trade Careers Expo last week at Seven Feathers Casino Resort. We were also able to chat with shop teachers and counselors, and we're excited about setting up future opportunities for some shop/office tours and visits for the schools! Always great to help our community and youth to learn, grow, and have opportunities for their future!" - Convey
"A&M Transport is happy to be a part of the Southern Oregon Trade Careers Expo at Seven Feathers Casino Resort in Canyonville!" - A&M Transport
"Great job on another great event! I know we didn't have the numbers come through as we did in 2019, but there were a lot more kids specifically interested in the utility industry and potential careers, which was fantastic!" - Sam, Pacific Power
"Project Youth+ students from all over the valley got the opportunity to attend this year's Southern Oregon Trade Careers Expo. Students got to talk to real employers and recruiters, and even try hands-on trade work! We love being able to introduce students to all sorts of post-secondary education, training, and career options. Thank you, Southern Oregon Trade Careers Expo, for putting together this awesome event!" - Project Youth+
"Allowing the youth to climb on the equipment, experience it, touch it, run it, and do the boom lifts and run the excavators — this is an opportunity they wouldn't get anywhere else. This allows them to experience opportunities they may not have considered because they may not know anyone in these trades." - John Jenkins, Phoenix Charter School, General Education Development Instructor
"I enjoyed reaching out to potential young workers, who might need a week to train to become roller operators who make $39.90 an hour, the state minimum starting wage for roadwork, without a college degree. My wife has a master's degree from Boston University and she makes $22 an hour." - John Hickey, Executive Director, Asphalt Pavement Association of Oregon
"The Expo is an invaluable showcase of careers available to Oregon's youth. Students will experience first-hand how they can apply their math, science and engineering studies to real life careers with fun, interactive learning." - Tribal Workforce Development Manager, Kelly Warner, Cow Creek Band of Umpqua Indians
Event Address
Seven Feathers Convention Center
146 Chief Miwaleta Ln.
Canyonville, OR 97417