Southern Oregon Trade Careers Expo
EMPOWER THE POSSIBLE
THE 3RD BIENNIAL SOTCE 2021 IS A WRAP!
We give hearty thanks to our sponsors, EXHIBITORS AND ATTENDEES.
Stay tuned to Facebook and Instagram

to #empower the possible



We'll see you again in 2023!
09.28.21 SCHEDULE INCLUDED:
8:00AM - 1:00PM
HIGH SCHOOL JUNIORS AND SENIORS are BUSSED FROM SCHOOLS IN COOS, CURRY, DOUGLAS, JACKSON, JOSEPHINE, AND KLAMATH COUNTIES.
1:15PM - 3:30PM
VETERANS, ACTIVE MILITARY, SPOUSES, and Job seekers
7 FEATHERS CONVENTION CENTER, North Lot
CANYONVILLE, Oregon
.
SOTCE IS NOT A TRADITIONAL CAREER FAIR
IT REALLY IS A CAREER EXPO!
Hands on activities and living wage careers come to life. Engagement with 6 counties participating: Coos, Curry, Douglas, Jackson, Josephine, and Klamath. The two-part expo takes place in Canyonville at the Seven Feathers Convention Center and adjacent northern lots with inside and outside exhibitors.
We Look Forward To Seeing You Again On September 26, 2023!
WHY SOTCE?
SKILLED TRADE WORKERS AVERAGE AGE IN OREGON IS 50 YEARS, AND NATIONWIDE IS 55. OVER 2 MILLION SKILLED TRADE PROFESSIONALS ARE NEEDED NOW!
Trade and industrial careers in today's market include high-tech and great earning potential. This event is organized to introduce high school Juniors and Seniors, Veterans, currently serving Military Personnel, and referred public and private agencies to exciting opportunities in many arenas:
Aviation and Rail ● Archaeology ● Architecture ● Engineering ● Geology ● Survey ● Public Safety Carpentry ● Cement Masonry ● Heavy Equipment Operation ● Welding ● Diesel Engine Repair Manufacturing ● Mechanics ● Military ● Plumbing ● Pipefitting ● Steamfitting ● Iron Working Skilled Labor ● WildlandFire Fighting ● and more!
Schedule for this Two-Part Event:
High School Students from Coos, Curry, Douglas, Jackson, Josephine & Klamath counties
8:00 am to 1:00 pm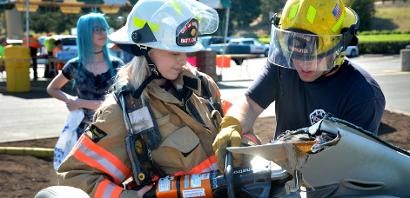 Veterans, Active Duty Military, Spouses, and Job Seekers from all

6 counties
REGISTRATION 1:15 pm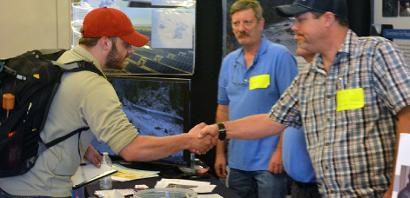 Exhibitor and Attendee
testimonials
- "I had no idea what sparked my interest, but being here made me realize that there are a lot more options than what it seems out there." - Mary Burnett, 12th grade
- "Allowing the youth to climb on the equipment, experience it, touch it, run it, and do the boom lifts and run the excavators — this is an opportunity they wouldn't get anywhere else. This allows them to experience opportunities they may not have considered because they may not know anyone in these trades." - John Jenkins, Phoenix Charter School General Education Development Instructor
- "I enjoyed reaching out to potential young workers, who might need a week to train to become roller operators who make $39.90 an hour, the state minimum starting wage for roadwork, without a college degree. My wife has a master's degree from Boston University and she makes $22 an hour." - John Hichey, Executive Director of the Asphalt Pavement Association of Oregon from Salem
"The Expo is an invaluable showcase of careers available to Oregon's youth. Students will experience first-hand how they can apply their math, science and engineering studies to real life careers with fun, interactive learning." - Tribal Workforce Development Manager Kelly Warner, Cow Creek Band of Umpqua Indians.
Event Address
Seven Feathers
146 Chief Miwaleta Ln. Canyonville, OR 97417